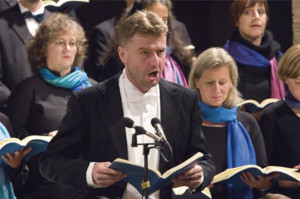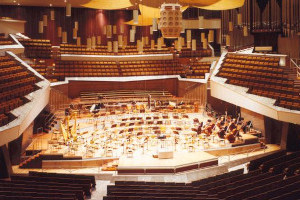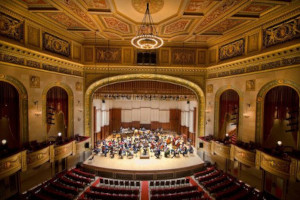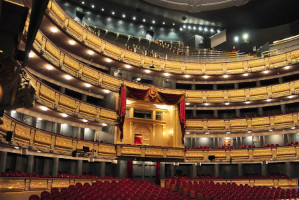 Biografie
MAREK RZEPKA, Bass
Marek Rzepka was born in Mikolow in Poland. The trained miner won first prize in the Kolberg Festival in 1989 and subsequently began his singing education in Krakow with Prof. Adam Szybowski. After transferring to the Dresden Conservatory, he studied with Prof. Christian Elßner. He graduated with honours and also completed his Master's degree there. Rzepka continued his studies with Prof. Hans-Joachim Beyer in Leipzig and Prof. Rudolf Piernay in Mannheim. Other important artistic influences include masterclasses with Brigitte Fassbaender, Teresa Zylis-Gara, Peter Schreier, Thomas Quasthoff and Charles Spencer.
Rzepka's repertoire spans across all musical eras. He sang Mozart's "Requiem" in the Krakow Philharmonic, Bach's St. "Matthew Passion" with the Dresden Kreuzchor and the Dresden Philharmonic, Maurizio Kagel's opera "Aus Deutschland" in Hamburg, Dvořák's "Requiem" in Dresden, Frankfurt and Wiesbaden, Bach's "Coffee Cantata" with the Academy for Early Music, several cantatas by J. S. Bach under Helmuth Rilling, as well as works by A. Lotti and Zelenka with Andrew Parrott.
Marek Rzepka performed regularly with the Balthasar Neumann Ensemble and Thomas Hengelbrock, the Stuttgart Music Podium and Frieder Bernius, as well as with the RIAS Chamber Choir and Hans-Christoph Rademann. He has made guest appearances in the Milan Auditorium, at the Bologna Festival, the Dresden Music Festival, the Handel Festival in Halle, the Rheingau Music Festival, the Schleswig-Holstein Music Festival, Boston Early Music Festival, the Schwetzinger Festival and he has given recitals in Dresden, Freiburg, Hamburg, Krakow, Vienna and in the Gewandhaus Leipzig. Several CD productions and radio recordings document his artistic work.
His teaching activity began in 1998 at the Dresden Conservatory. From 2001 he taught at the Leipzig Conservatory and then in 2009 at the Krakow Conservatory. In July 2015 he was appointed professor at the Bremen Conservatory. This was followed in November 2016 by the call to the HMTM in Hanover, where he is presently a singing professor. His current students and graduates sing at many renowned opera houses and concert stages around the world.
In 2004 Rzepka made his debut at the Théâtre La Monnaie in Brussels in Monteverdi's "Il ritorno d'Ulisse in patria", followed by a tour of France, Luxembourg and New York as well as a guest appearance at the Melbourne Festival in Australia. In September 2006 he recorded Lully's opera "Thésée" on CD under Steven Stubbs. A recording of Conradi's "Ariadne" under Paul O'Dette and Steven Stubbs (Boston Early Music Festival and Tanglewood Festival) received a Grammy nomination. Important engagements in 2007 were the revival of "Il ritorno d'Ulisse in patria" at the Théâtre Royal de la Monnaie (direction: Philippe Pierlot), festival appearances with Thomas Hengelbrock in Athens and Wroclaw, and his role debut as Masetto in "Don Giovanni" at the Herrenchiemsee Festival. In addition to several projects with the RIAS Chamber Choir, Marek Rzepka made a guest appearance in Israel in March 2008 with the Barrocade Ensemble as Uberto in Pergolesi's "La Serva Padrona" and gave a recital in Jerusalem (piano: Ido Ariel). He subsequently sang Bach's "St Matthew Passion" with the Detroit Symphony Orchestra. In the summer of 2009, he made his debut in "The First Walpurgis Night" by F. Mendelssohn Bartholdy with the Tonhalle Orchestra in Zurich and his debut at the Salzburg Festival in F. Liszt's "Via Crucis". In October 2009 he took over a singing class at the Krakow Conservatory.
In 2010, a recording of the cantata "Weinen, Klagen, Sorgen, Zagen" (BWV 12) by J. S. Bach (conductor: Thomas Hengelbrock, bass: Marek Rzepka) was awarded "The Gramophone Awards" in London.
In 2011 he sang, among other things, J. S. Bach's "B minor mass" with the Mozarteum Orchestra under Ivor Bolton, "Idomeneo" by W. A. Mozart in London under Thomas Hengelbrock. This was followed by concerts with the Holland Baroque Society with arias by Vivaldi under the baton of Rachel Podger and a guest performance in Moscow with the Morphing Chamber Orchestra from Vienna. In 2012 he sang Caronte in the opera "Orfeo" by Monteverdi and toured Europe with the "Christmas Oratorio" by J. S. Bach. In 2013 he made his debut in Wagner's "Parsifal" at the Teatro Real in Madrid and sang Mozart's "Requiem" at the Salzburg Festival under Thomas Hengelbrock.
In recent years, notable performances include the "Magnificat" MWV 2 by Felix Mendelssohn-Bartholdy under the direction of Thomas Hengelbrock at concerts in Brussels, Zurich and Frankfurt, as well as toured through Spain under the direction of Pablo Heras-Casado with works by Claudio Monteverdi, which was recorded for Harmonia Mundi.
In addition to teaching as a professor, Marek Rzepka continues to perform on important concert and opera stages all over the world.